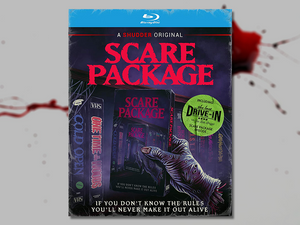 Scare Package - Official Blu-ray - SIGNED
All 107 glorious minutes of your all-time favorite film, SCARE PACKAGE, in crisp, beautiful HD. A must have for all fans of horror, comedy, horror-comedy, anthologies, happiness, Rad Chad, Goo Guy, and just quality films in general.

INCLUDES THE LAST DRIVE IN WITH JOE BOB BRIGGS EPISODE
It also includes Multiple Special Features that we can't announce just yet, but will very soon!
Personalized and signed by film creators Aaron B. Koontz and Cameron Burns. Please leave us an order note if you would like your poster personalized.
Please allow 1 to 3 weeks for orders to ship. While orders typically ship within just a few days of being received, given that we are a production company first and a boutique retail outlet twentieth, so we politely ask that you allow 1-3 weeks for items to ship. Thank your for your patience! Stay Rad!
Minimum Order $10 - Orders are subject to be canceled if under the $10 minimum purchase price. We apologize for any inconvenience.