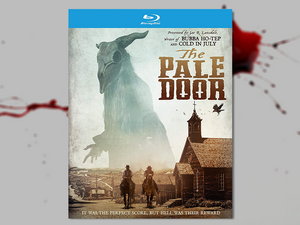 The Pale Door - Official Blu-ray
After a train robbery goes bad, two brothers leading a gang of cowboys must survive the night in a ghost town inhabited by a coven of witches. Order this beautiful HD blu-ray now and see what happens when cowboys must taken on witches in a high stakes battle for their lives.
Starring: Davin Druid, Zachary Knighton, Bill Sage, Pat Healy, Melora Walters, Stan Shaw. 

Please allow 1 to 3 weeks for orders to ship. While orders typically ship within just a few days of being received, given that we are a production company first and a boutique retail outlet twentieth, so we politely ask that you allow 1-3 weeks for items to ship. Thank your for your patience!
Minimum Order $10 - Orders are subject to be canceled if under the $10 minimum purchase price. We apologize for any inconvenience.